Amentities and Location
Quality stone, wood trim, high ceilings, large windows and natural light are the hallmarks of 1020 & 1030 Lafayette. Enter to a chandelier lit 2 story entrance with floating stairs, stone floors and display for local artists. The larger conference room contains the lending library available to all 1020 & 1030 Lafayette tenants. Sitting areas punctuate the common areas.

2 TO 5 OFFICE SUITES
with Common Amentities, Full Service Lease
The office suites of 1020 Lafayette each have their own interior private post office box with large package delivery, kitchen and vending and spacious conference rooms. The available conference rooms comfortably accommodate 6 to 24 participants and feature flat panel monitor/tvís.

3 TO 5 OFFICE SUITES
with Private Entrance, Reception, Kitchen & Bath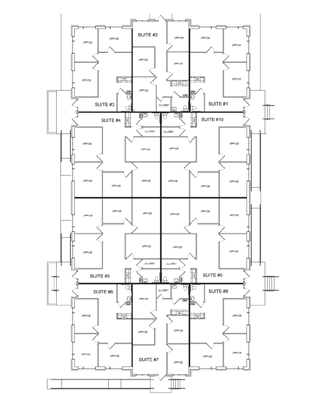 The office suites of 1030 Lafayette feature private entrances, fully equipped kitchens with dishwasher, refrigerator and microwave, and private bathroom. The foyer, kitchen and bathroom have stone floors. There is wide crown and base with transom office doors throughout. The ceilings are 10 feet and all offices have tray ceilings with direct and indirect lighting. Porches shield the chandelier lit, mahogany door entrance for private entrance for each of the suites at 1030 Lafayette
Security
Access to 1020 Lafayette is secured by 24/7 video surveillance and computer controlled after hour access.
Each suite of 1030 Lafayette has its own porch protected, well lit entrance and is pre-wired for tenant selected private security. The parking for 1020 & 1030 Lafayette is open and well lighted.
Internet Access
1020 & 1030 Lafayette is served by redundant fiber optic cable to serve the tenants with telephonic (VOIP) and internet at virtually unlimited available bandwidth. Also available is standard telephone and cable TV.
Some benefits of redundant fiber optic cable include rare service interruption by weather, other demand or casualty. Internet service at 1020 & 1030 Lafayette can be at specified bandwidth for both upload and download without shared width.
1020 & 1030 Lafayette is currently negotiating external generator backup for its internet capacity. As internet television becomes technologically competent, it will be available to 1020 & 1030 Lafayette tenants.
Parking
1020 & 1030 Lafayette is located under the quiet tradition of heritage Oaks with itís own private park to relax, contemplate and enjoy lunch but with spacious front door parking.